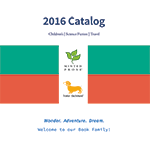 2016 Minted Prose Catalog Now Available in Print and on the Web
We are very pleased to share our new 2016 Minted Prose Catalog with you. Prominently featured in this year's catalog is Sled Dog Dachshund by Laura Atkins, illustrations by An Phan. Ads and book details in the catalog highlight Jasper, the happy and optimistic Sled Dog Dachshund who is certain he can help a team of huskies win a big race.
We will be sending the catalog out by mail and email to retailers across the country. Just looking at Jasper it would be hard to think he wouldn't get a strong response! He's so cute and fun! We're excited that the catalog this year spotlights this wonderful new book from our Traitor Dachshund imprint.
We have the rest of our lineup, including Grandma and her Chocolate Labrador, and A Dachshund's Wish, in the catalog. Also in the catalog are our two science fiction books, Julia and the Dream Maker and Green Eyes in the Amazon, as well as our travel book The Memory Book, One Woman's Self-Discovery in the Mist of the Austro-Hungarian Monarchy.
Ordering information from our distributor Small Press United, a division of Independent Publishers Group is found at the end of the catalog.