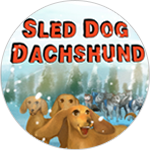 Reviews: Sled Dog Dachshund is Inspiring! Endearing Story! Delightful Illustrations!
It's always exciting, crazy busy, and exhilarating to launch a new book here at Minted Prose and we couldn't be happier about the latest addition to the Traitor Dachshund family of books: Sled Dog Dachshund. It fits right in with our theme of celebrating animals and the wonder, adventures, and dreams imagined in their world.
Glowing review have begun coming in, especially focused on the idea of teamwork, a central idea in the story. "Sled Dog Dachshund shows how every member of the team plays an important part in a successful outcome," said Elizabeth O'Brien, Children's Literature Specialist, New York City Department of Education.
San Diego Book Review CEO Kim Heimbuch added, "Jasper's infectious over-the-top can-do attitude provides the positive reinforcement the team needs to power through the difficult times and as a team, secure the win."
Lynne Dahlen, Editor, Dachshund Club of America Newsletter, said the book also spoke to the fact that dachshunds don't see themselves as little. The book "captures the true dachshund spirit and tenacity. Dachshunds perceive themselves as big dogs, but in a little dog body. They won't back down from challenges," Dahlen said.
And having been a dachshund owner for 16 years, I would have to agree with Lynne! Dachshunds are as big as huskies any day — at least that's what they think!
We'll have more reviews coming soon so keep checking back with us for Sled Dog Dachshund praise!