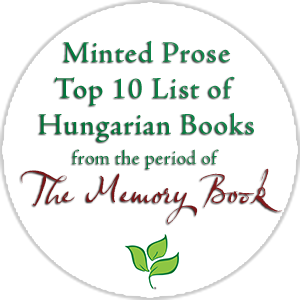 NEWS: MINTED PROSE ANNOUNCES THAT THE ADVENTURES OF SINDBAD IS PART OF THE TOP 10 LIST OF HUNGARIAN BOOKS IN THE PERIOD OF THE MEMORY BOOK
The Adventures of Sindbad by Gyula Krúdy (translated by George Szirtes from Hungarian to English) is a work of magic realism chronicling the romantic adventures of Sindbad, a roguish playboy with a colorful history of women in his life. It is our third pick for the top 10 Hungarian Books at the turn of the 20th century at the time The Memory Book emerged.
As you read along, you come to know Sindbad is dead, but quite busy, revisiting loves and situations borne in past times from his life. The stories are ethereal, with Sindbad taking leave of his crypt in the same nonchalant manner one might take by lifting a coat from a rack and putting it on to head outdoors for an errand. Yet somehow Sindbad's actions feel rooted in the real, even when he's simply slipping into the minds and hearts of those he's loved through their dreams. The book is exquisitely written with layered storytelling.
The varied anecdotes are filled with rich language, sentiment, and erotic feelings, taking you on a wild ride—from the drowning of a boy in Sindbad's youth to Sindbad finding "Monkey," a woman who passionately loved him long after his suicide. Sindbad even turns up to advise a frustrated young man on the duplicitous behavior of a woman whom both the young man and Sindbad have loved.
The Adventures of Sindbad and all of the other books on our Top 10 list are being read in English by Minted Prose author Linda Fischer while Minted Prose's head of research Anikó Pintér is reading them in Hungarian. Anikó is the former librarian of the American Hungarian Library and Historical Society in NYC.
Please join us in the conversation and let us know what you think about the books on our list either by our contact form or through Minted Prose social media channels. We look forward to hearing from you! By the way, if you missed our first pick, Anna Édes or our second one, The Devil, we highly recommend you checking them out!
—Linda Fischer