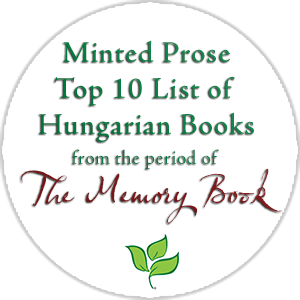 NEWS: MINTED PROSE ANNOUNCES THAT THE DEVIL IS PART OF THE TOP 10 LIST OF HUNGARIAN BOOKS IN THE PERIOD OF THE MEMORY BOOK
The Devil is a short and fierce play about a devil who taunts his victims. He twists their secret desires and in doing so this play, makes our second pick for the top 10 Hungarian books at the turn of the 20th century at the time when The Memory Book emerged.
Ease of access arises because the play became a film and its mere 100 page book is easy to find on Amazon. The book explores the psychological and subconscious feelings of the lives of an artist and a banker's wife. There was love between them years ago. The artist is now to paint her and in his studio we learn of their first meeting, first kiss, and more. The Devil intrudes and from there we see his audacity, insinuating the affection between the two, causing mischief and anxiety, and insisting she will be his mistress. A ball is the setting for the introduction of new characters including a love interest for the artist, and all are exposed to the Devil's sly words. The banker's wife is set up by the Devil and ultimately decides to write a letter to the artist. Does the artist get it? Will the Devil continue to play his mind-game tricks? You'll have to read the play to find out.
The Devil and all of the other books on our Top 10 list are being read in English by Minted Prose author Linda Fischer while Minted Prose's head of research Anikó Pintér is reading them in Hungarian. Anikó is the former librarian of the American Hungarian Library and Historical Society in NYC. We both enjoyed The Devil for surfacing the characters' hidden feelings.
"It wasn't easy for the characters to hear the Devil, but he drew me right into the story," Linda said.
Please join us in the conversation and let us know what you think about the books on our list either by our contact form or through Minted Prose social media channels. We look forward to hearing from you! By the way, if you missed our first pick, Anna Édes, we highly recommend you checking it out!
—Linda Fischer