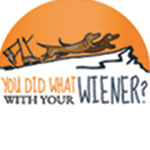 Flash Giveaway Alert for Sled Dog Dachshund
A flash giveaway of the new hardcover of Sled Dog Dachshund is underway on Facebook through 12 noon PST on Thursday, October 6, 2016. In order to win the book, people are being asked why they would want the book and/or for whom they would like it. A winner will be selected from the comments using a random number generator.
The pet blog You Did What With Your Weiner? is running the giveaway with the book provided by Minted Prose.