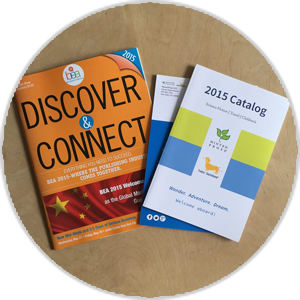 News: 2015 Minted Prose Catalog Now Available in print and on the web
We are very pleased to share our new 2015 Minted Prose Catalog with you. And we were thrilled to have the catalog printed in time to share at the recent 2015 BEA Book Expo held May 27-29, 2015 at the Javits Center in New York, NY. Our travel and science fiction books engage people of all ages in the ways they like to read, whether in print or an electronic format.
The travel area is a relatively new one for us, which we launched with an unusual story about the discovery of a memory book in Budapest. Our plan is to bring forth more unique stories like this one so that readers are part of the trip—far and wide.
The same expansive nature of discovery, though of a wholly different nature, is behind our science fiction books. We're happy to announce author P. J. Fischer is writing a new book. You can expect this new story will be asking what if and imagining a future replete with scientific advances as well as ethical and moral complications. Our hope is that this book will provide a window into the workings of the scientific community and a degree of insight in which real science and literary speculation intersect.