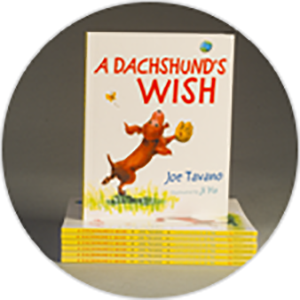 PRESS RELEASE: A DACHSHUND'S WISH MAKES SCHOOL PRESENTATION DURING CHILDREN'S BOOK WEEK
FOR IMMEDIATE RELEASE
A Dachshund's Wish has been matched with PS 84 in Astoria, Queens, New York City for the 2006 Adopt-A-School Program, a collaboration between the Association of American Publishers and the Children's Book Council to promote reading during Children's Book Week, Nov. 13-19.
For the school event, Traitor Dachshund, the independent publisher of the new children's book about a puppy who wants to be a boy, will present a specially-produced video for the children at PS 84 featuring the characters from the book, animated and talking about the story. Then the author, Joe Tavano, will share his inspiration for the book and why reading is such an important skill.
In addition, Traitor Dachshund will be recognizing Children's Book Week with the release of fun activities for the book, including a word search, math questions and You're the Author! Section for children. These will be available as a free download from its website (traitordachshund.com).
"The story is based on my own dachshund, Paws, who taught me to keep life simple," said Tavano. "I hope children learn from this story how important it is to be yourself and to enjoy your friends."
Traitor Dachshund supports educational efforts and has developed a 24-page, four-color Teachers' Guide for A Dachshund's Wish. To date, over 3,000 educators have requested the lesson plans and activities since the publisher made them available in April.
The Teachers' Guide is available as a free download at the company's website (traitordachshund.com). "I was truly amazed and gratified by the response of the educational community," said Linda Purpura, president of Traitor Dachshund, LLC. "We found teachers very open to new materials and we look forward to continuing our relationship with them."
Media Contact
Susanna Wilson
media@mintedprose.com
(530) 615-8325