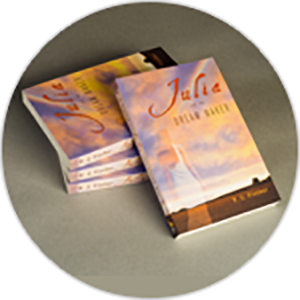 PRESS RELEASE: JULIA AND THE DREAM MAKER TO DEBUT AT BOOKEXPO AMERICA IN CHICAGO
FOR IMMEDIATE RELEASE
A new novel entitled Julia and the Dream Maker will debut at BookExpo America, which runs from June 4-6, 2004 in Chicago. The novel challenges readers to think about the role of science, religion and computer technology in the evolution of mankind.
"The central question of Julia and the Dream Maker is how will our society deal with the Galileos of the DNA age," said P. J. Fischer, author. The novel is set in the not too distant future and involves the lives of three graduate students who are swept along by their own ambitions and a wave of technology, which takes them into a seminal moment with evolution.
"We are very excited about the book's debut in Chicago," said Linda Purpura of Traitor Dachshund Books, publisher of Julia and the Dream Maker. "This represents the culmination of a coordinated effort, which includes a video trailer and video news release airing on our website." The book will also be supported by national advertising and other marketing vehicles.
Editors can request a VHS or DVD of the video trailer and video news release for the book via email. A CD-ROM, The Art That Inspired Julia and the Dream Maker, is also available upon request.
About the Author
P.J. Fischer grew up in Salem, Oregon, and received his Bachelor of Science in Chemical Engineering from Oregon State University. His interest in science expanded to a fascination with its potential, and the inevitable impact on our lives. Julia and the Dream Maker is the result of that fascination.
Media Contact
Susanna Wilson
media@mintedprose.com
(530) 615-8325