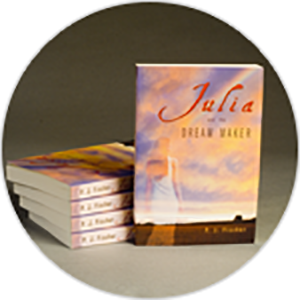 PRESS RELEASE: NEW SCIENCE FICTION NOVEL JULIA AND THE DREAM MAKER DEBUTS
FOR IMMEDIATE RELEASE
A new novel entitled Julia and the Dream Maker has debuted into the world of science fiction literature, challenging readers to think about the role of science, religion and computer technology in the evolution of mankind.
The book is published by Traitor Dachshund Books, New York City, and is available for purchase at Amazon and Barnes and Noble.
Through the vivid and imaginative world created by P. J. Fischer, Julia and the Dream Maker tells the story of Steven and his girlfriend Eli, brilliant biologists who are planning a future together as professors and scholars. A project they become involved in sets off a chain reaction that dramatically changes the course of human evolution.
While the novel is set at an indeterminate point in the not too distant future, readers will be able to relate many issues in today's headlines with the issues raised in the story.
This is due to the fact that beyond the futuristic science, Julia and the Dream Maker deals with issues of what it means to be human and whether or not this definition is fixed or in flux.
"A central question of this story is - how will our society deal with the Galileos of the DNA age?" said Fischer.

About the Author
P. J. Fischer grew up in Salem, Oregon, and began his career in engineering. He holds a J.D. and a Ph.D. in finance, and has a continuing interest in science. Julia and the Dream Maker is his first science-fiction novel, which introduces a series.
Media Contact
Susanna Wilson
media@mintedprose.com
(530) 615-8325